Press
In the boxes below you can find a selection of recent newspaper articles concerning SilvaVest or with a focus on SilvaVest on forest ecology, the forestry and timber industry in general or timberland investments specifically (print and online).
June 4, 2020 – iMoney
June 4, 2020 – iMoney
Institutional demand for direct investments in timberland undimmed
Despite the global pandemic, investor interest in direct investments in timberland remains strong. This is evidenced by steadily growing demand for this inflation-proof investment type, which shows little correlation with other asset classes
May 18, 2020 – autobahn magazine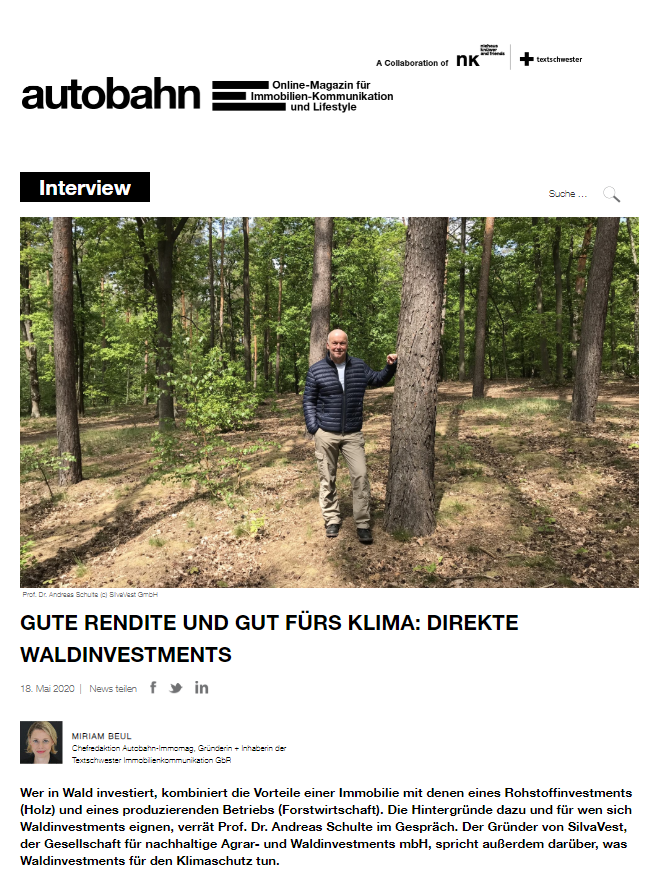 May 18, 2020 – autobahn magazine
DIRECT INVESTMENT IN TIMBERLAND – GOOD RETURNS AND GOOD FOR THE CLIMATE
Investing in timberland combines the advantages of real estate, of investment in raw materials (wood) and of a producing industry (forestry). We talk to Prof. Dr. Andreas Schulte, who discusses the backdrop to such investments and which individuals are best placed to benefit from them. The SilvaVest – Gesellschaft für nachhaltige Agrar- und Waldinvestments mbH founder also talks about how timberland investments can benefit the climate.
May 14, 2020 – private banking magazine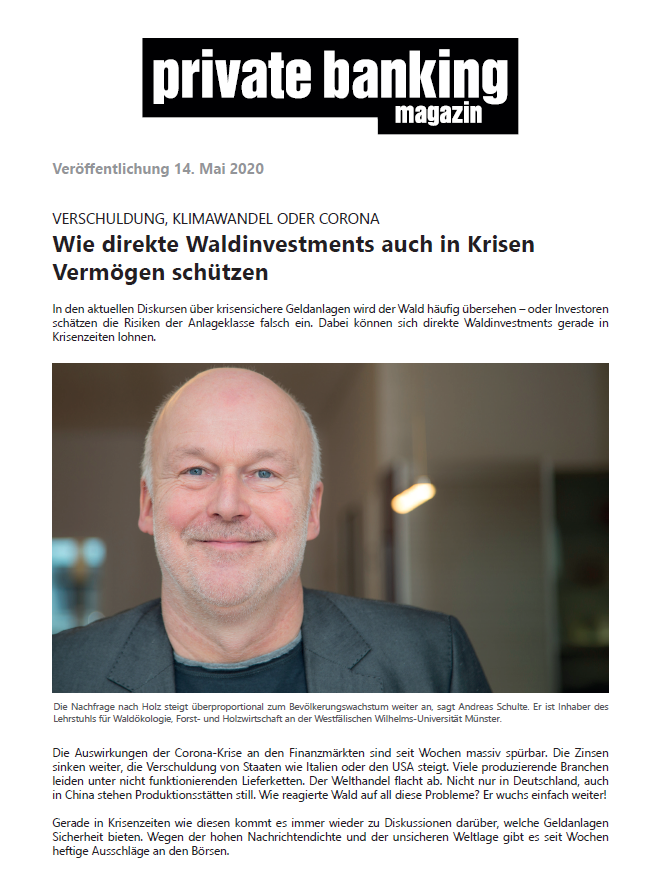 May 14, 2020 – private banking magazine
How direct investment in forests protects your wealth even in a crisis
In all the talk about crisis-proof investments right now, one investment that often gets overlooked is forests. Either that, or investors are simply misjudging the risks involved with this investment type. But it's in times of crisis that direct investment in timberland can be particularly rewarding.
May 25, 2011 – StromAuskunft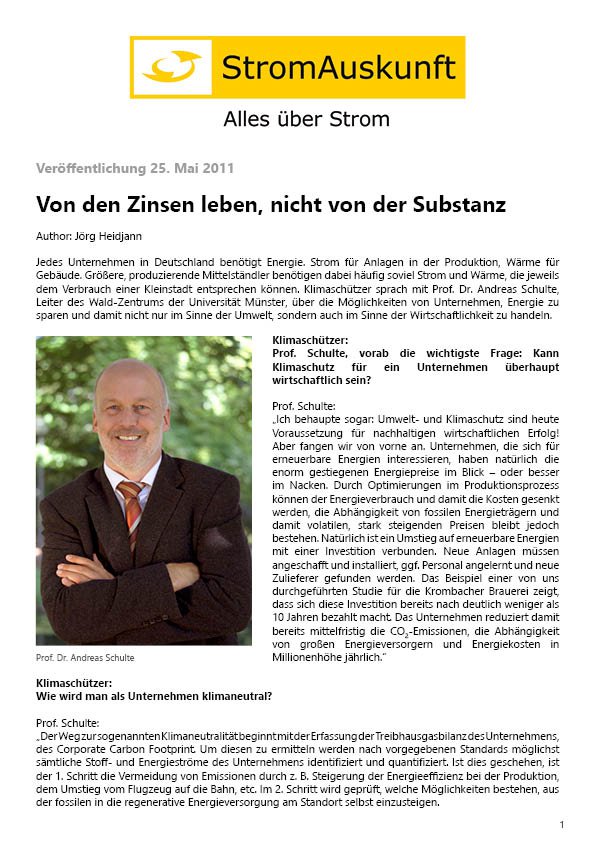 May 25, 2011 – StromAuskunft
Living on the interest, not on the substance
Every company in Germany needs energy. Electricity for production plants, heat for buildings. Larger, producing medium-sized companies often need as much electricity and heat as a small town can consume. Climate protector spoke with Prof. Dr. Andreas Schulte, head of the Forest Centre at the University of Münster, about the possibilities for companies to save energy and thus act not only in the interests of the environment but also in terms of economic efficiency.